Revolution
Yacht Group Receives 2016 Best of Fort Lauderdale Award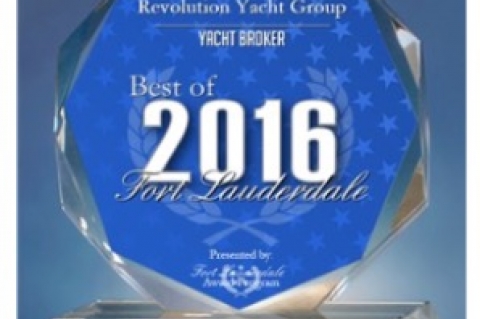 05/31/2016
Revolution Yacht Group has been selected the 2016 Best Yacht Broker by the Fort Lauderdale Award Program.
The Fort Lauderdale Award Program was established to recognize the best of local businesses in our community. This annual awards program recognizes the small business community's contributions to the U.S. economy, honoring the achievements and accomplishments of local businesses throughout the Fort Lauderdale area.
This year the maximum recognition has been given to Revolution Yacht Group for its ability to use best brokerage practices and achieved exceptional marketing success in their community.
Various sources of information were gathered and analyzed to choose Revolution Yacht Group as winner in the yacht broker category . The 2016 Fort Lauderdale Award Program focuses on quality not quantity, winners are determined based on the information gathered both internally by the Fort Lauderdale Award Program and data provided by third parties.
Alex Craig at the helm of Revolution Yacht Group, deserved this award as he enhances the positive image of his small boutique brokerage firm through a dedicate service to his customers and community.
Exceptional companies like Revolution Yacht Group help make the Fort Lauderdale area a great place to live, work and play.
SOURCE: Fort Lauderdale Award Program